Moyea PPT4Web Converter is an excellent PowerPoint to flash video converter in the market which can not only convert PowerPoint to FLV file, but also it can convert PPT to MP4, MOV, 3GP and 3G2 file with excellent quality and fast conversion speed. To assist the conversion, this PPT to video converter can set default transition time between slides; ignore the original audio tracks and re-add no limitation of background music for conversion to the output; unkeep aspect ration is also easy to realize. In addition, advanced settings for the audio and video parameters can perfectly meet your demands.  
Many people may ask now that the software has so many powerful functions, how can I achieve them? Then to achieve all these functions easily and perfectly, this tutorial is to show you a step by step operation about how to directly convert PowerPoint to flash video with Moyea PPT4Web Converter.
Step1: Install and launch Moyea PPT4Web Converter:
After installing and launching Moyea PPT4Web Converter, this interface will pop up.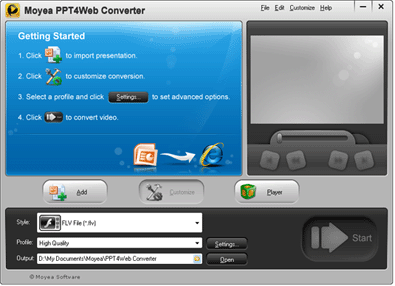 Step2: Add PowerPoint files:
Click "Add" button to add PowerPoint file you want to convert.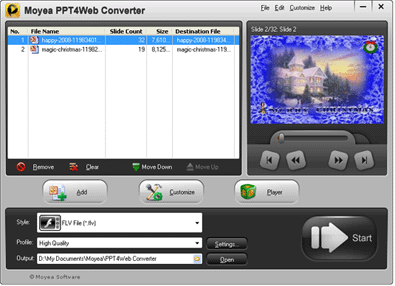 Hit the button under the view screen, and click the go-on button, you can preview the original PowerPoint slides.
Secondly, select a style and profile for the output file, either one format MP4 for playback on web or FLV uploading to video share sites like YouTube, or other video format from the drop-down list. You can also click the button

to explore further settings for audio and video.
Thirdly, specify where to save the ripped movies by selecting from Output box.
No limit on the quantity of PowerPoint imported at a time. Moreover, if you have installed Moyea Web Player, click" Player" button, you will switch to Moyea Web Player; if not, click" Player" button, you will go to http://www.flash-video-mx.com from where you can download a demo Moyea Web Player or purchase it. With Moyea Web Player, you can customize your flash video player for your web, blog, podcast, etc.
Step 3: Customizing output effects
Click "Customize" button to custom your output file format. This step contains 4 parts: timing, music, audio and slide.
Timing:
Click "Timing" tab, you can specify a default transition time between slides playing by selecting the value and then clicking "As Default" button.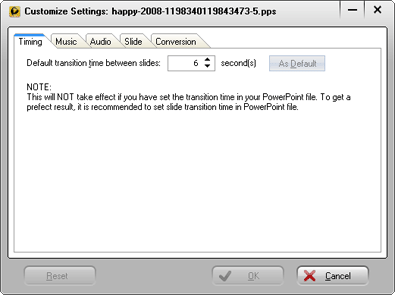 Note: If the slide transition time between slides has been set in your presentations, the above settings will not take effect. In order to get a perfect result, it is recommended to set slide transition time in the PowerPoint presentation.
Music:
Click "Music" tab, you can addbackground musicto the PowerPoint file as the audio file when converting.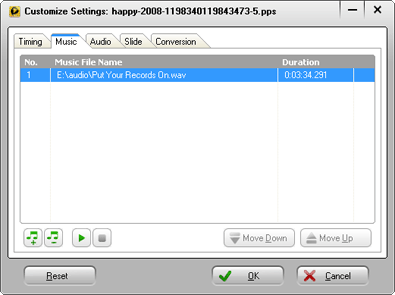 Click

to addmusic. There is no quantity limit on music added. Click

to delete the added music.
Audio:
Click "Audio" tab, this interface will pop up.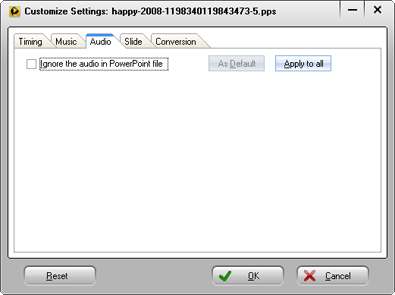 If you check the box, both the audio in the original PowerPoint Presentation and audio tracks in the presentation will be ignored. This option only effects on the current checked presentation.
If you do not check the box, Moyea PPT to Video Converter will combine the newly added music file with the original video & audio file in order automatically for conversion.
Slide:
Click "Slide" tab, this interface will pop up.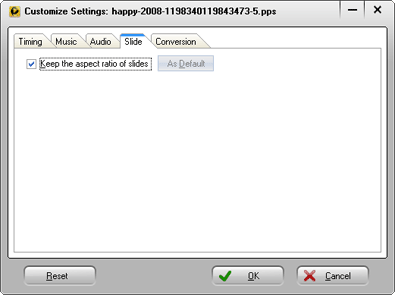 Keep the aspect ration of slides. The default value is check to this option; you can uncheck it by clicking the box.
Conversion
Click "Conversion" tab, this interface will pop up.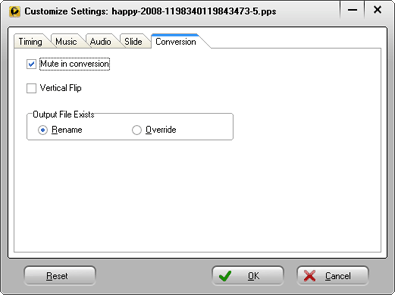 Check to mute the audio file while converting PowerPoint to DVD. If the same name of output file exists, you can either choose to rename or override it.
Step 4: Further Settings for Audio & Video
Click button

to enter "Profile" interface, you can explore further settings for audio& video on this interface.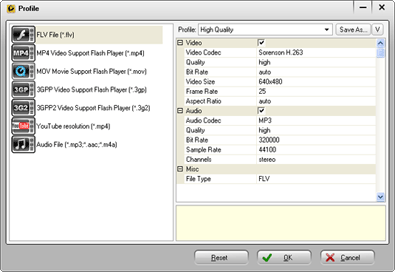 Firstly, You should select one output format in the left frame such as FLV file. Then, hit the specific parameter bar to set that, such as bit rate, frame rate, video size, and so on. However, please note that the high bit rate and frame rate will lead to a high quality and large output size, while low bit rate and frame rate will lead to a low output quality and small size. 
Step 5: Conversion
When all settings completed, you just need to click the

button to start conversion.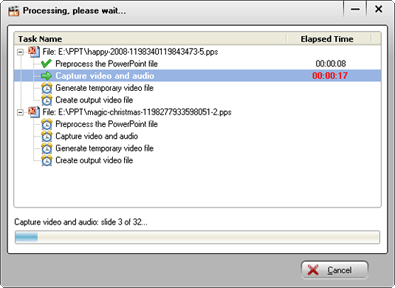 Both the progress and time used for the conversion of each PowerPoint file can be shown clearly on the interface.
After conversion completed, the output directory of your converted video will show as hyperlink, you may directly click on it to view your video file.
Enjoy the video to flash conversion with Moyea PPT4Web Converter.
System requirements

Price:
$39.95
Moyea PPT4Web ( PPT to FLV Converter) System requirements
• Microsoft® Windows XP (SP2 or later), Windows Vista ,Win7
• 64MB Memory (128MB recommended)
• 512MB hard disc space or above
• Adobe Flash Player 7 or above