If iPad mini is exclusively designed to challenge the dominance of Google Nexus 7 in 7-inch tablet market, Google Nexus 10 is released to take the place of iPad 4 in tablet market. As the latest Google tablet, Nexus 10 sports a 10.1-inch PLS display owning a resolution of 2560×1600, 1.7GHz dual-core Exynos 5250 processor, 5-megapixel rear camera, 1.9-megapixel front facer, 9000mAh battery, built-in NFC and Jelly Bean. Moreover, as the new flagship of Android tablet, Google Nexus 10 wins in the battle of iPad 4 vs Nexus 10 in terms of pixel density. With high-resolution screen and powerful camera, Nexus 10 turns out to be an ideal multimedia tool.
"How can I enjoy DVD movies with Google Nexus 10?" Even though Nexus 10 is a powerful multimedia tool, the task of playing DVD on Google Nexus 10 is still not an easy one. For one thing, as a device lacking DVD drive in design, Nexus 10 fails to get direct access to DVD discs; for another, there are no powerful Android apps to help users play DVD files on Nexus 10 directly. However, providing the crucial role DVD has played in people's daily entertainment, a method to play DVD on Nexus 10 is highly desired.    
A feasible to make DVD accessible to Nexus 10 is to convert DVD for Nexus 10. However, the conversion process won't help users to play DVD on Nexus 10 until users can acquire a powerful DVD for Nexus 10 converter. To this extent, Windows users can refer to DVD Ripper to convert DVD to Nexus 10 movie while Mac users can refer to DVD Ripper for Mac.
Step 1: Download and launch DVD Ripper, a powerful tool designed to manage the conversion from DVD movie to Google Nexus 10 file.
Step 2: Import DVD file. Open DVD Ripper, click "File" button and then choose "Load DVD" option in the drop-down menu to import DVD file for further editing.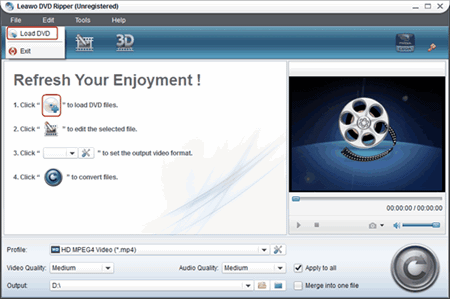 Step 3: Set output video. To make sure users can play the converted DVD on Nexus 10, users need to convert the DVD video to MP4 movie. Therefore, set the output file as MP4 video for Nexus 10 in the drop-down menu of "Profile".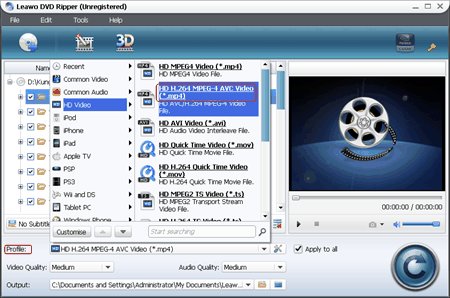 Step 4: Specify Nexus 10 video. Click "Settings" button lying next to Profile bar to enter into Settings panel where various video parameters are provided. Then convert the DVD movie to a decent Nexus 10 video with those parameters. For example, set video size as "2560×1600", audio codec as "AAC" and video codec as "H.264" for Google Nexus 10.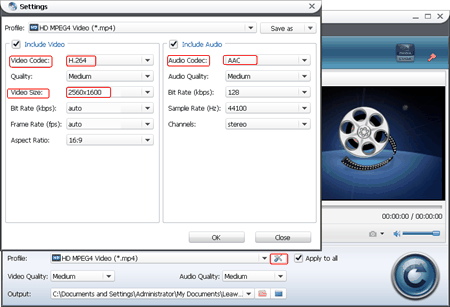 Step 5: Edit the MP4 video. Click Edit icon to enter into Video Edit panel where various editing features are provided. Then polish the MP4 video with this DVD to MP4 converter to make sure users can enjoy them better with Nexus 10 tablet. For example, users can customize video length with "Trim" tab and adjust video effects with "Effect" tab.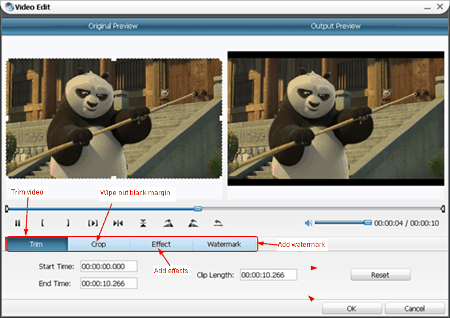 Step 6: Start the conversion. After all those steps, click Convert button to begin the process of converting DVD for Nexus 10. As the conversion ends, one can play DVD on Google Nexus 10 freely.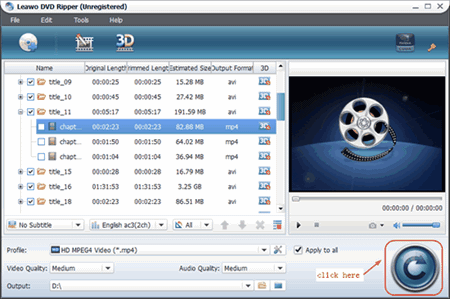 Tips:
1. To convert 2D video to 3D movie for Nexus 10, follow those steps below. Click "3D Settings" icon to enter into corresponding panel where six 3D effects are provided. Choose one 3D effect and then adjust 3D depth with corresponding bar.
2. To convert multiple DVD files for Nexus 10, choose them all and then select "Merge" option in the drop-down menu of "Edit". When the conversion ends, those DVD movies will be merged into an integrated MP4 video for Google Nexus 10.